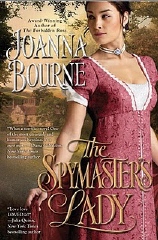 The Spymaster's Lady
Talking about Spymaster's Lady
It's always seemed to me Romance genre sees the Napoleonic Wars from the English side.
And yet … the French have all the good lines. They're the ones promoting liberty, equality, separation of church and state, universal male suffrage, anti-slavery, and the end of aristocratic privilege. The British, on the other hand, are defending the same old same old. But then, the French go about cutting heads off and conquering Europe, which makes it what you might call … complicated.
I wanted a conflict between hero and heroine over these ideals and practicalities. Not resolving them, but making choices, the way we do in an imperfect world. And that's the Spymaster's Lady. It's about choices.
(Read the rest of this interview at the Booksmugglers.)

and an excerpt ...

"I have plans."

He jerked the last button loose and pulled his shirt over his head and dropped it on the floor, then stripped his trousers off. She started to sit up but he set his hand on her shoulder to keep her as she was. He liked her this way ... naked, laid out on her belly. She was exquisitely lovely and she couldn't attack.

"Have I mentioned you're the most beautiful woman in the world?"

"From one cause and another we have missed saying such things to each other."

Those sleek cat muscles of hers told him how nervous she was. Willing, but nervous. He could use that nervousness. He could make it explode inside her like foam in a keg. He'd send her wild tonight. Beyond thought. Beyond restraint. "I like the curve here ..." He ran his hand down the long taut muscles that paralleled her spine. "It's like the countryside back home. Long and rolling."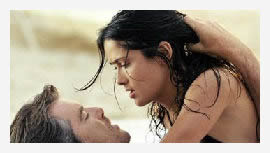 "I am like countryside?"

"Somerset countryside." He stroked her buttocks. "With little hills."

"But truly, men have strange minds."

He stroked her again. "Did your mother tell you that?"

"I find that my mother did not say anything to the point. She did not wish me to be a courtesan, you understand, and therefore did not instruct me in those arts." She glanced at him from the corner of her eye. "Except a few trifles. I believe they are not known to respectable English girls, who are very uneducated. I will show you, if you like."

A pang of pure lust shot through him. His lady was not at all innocent in some ways. He foresaw many long, interesting nights while they worked out exactly who would be in charge in this bed.

Booklist says:
"In her exceptional debut romance, Bourne deftly distills danger, deception, and desire into a seamlessly constructed story that will captivate readers with its irresistible combination of superbly nuanced characters and a high-adrenaline plot." --John Charles

Romantic Times says:
Hot Pick 4 1/2 ****

Annique Villiers, the elusive spy known as the Fox Cub, has outwitted, outmaneuvered and outfoxed every man she's ever met, until British spymaster Robert Grey steps into a French prison. Grey's mission is to capture the Cub and uncover exactly what she knows and who she works for.

Bourne debuts with an emotionally powerful action-adventure thriller reminiscent of Elizabeth Boyle and Madeline Hunter. With its twists, surprises galore, spies and counter-spies and trust and distrust, this intricate, marvelous story captivates.

As enemies, they hate one another; as fellow prisoners they must band together to escape. Their truce is
filled with suspicion, but there's also a spark of something more -- a forbidden passion that threatens their missions. As they flee through the countryside, pursued by enemies left and right, their tense alliance hangs on a thread. Surrounded by deception, piled-on secrets and heaped-on lies that go back decades, Grey and Annique become a force to be reckoned with in a world gone mad. (Reviewed By: Kathe Robin)
What folks are saying . . .
. . . there are stakes - huge, changing-the course-of-history, life-or-death stakes . . . wild monkey sex . . .   Fans of contemporary urban fantasy/romance will instantly recognize Annique's ass-kicking, never-say-die, I've-been-in-tighter-spots-than-this style. . . .   The other book that I read that I didn't hate as much as I thought I was going to, was Joanna Bourne's, The Spymaster's Lady. . . heartbreak, escape, lust. . .  I shamelessly pimped this . . . SO. FREAKIN. AWESOME . . .   Ah, clever young, vulnerable, wise-beyond-his-years Adrian. . . I loved the villains - I wanted to skewer them soooo many times I can't count . . . The heroine is a courageous innocent and the hero is more of a cynic. There is some humor as well as emotional angst, and a sense of wonder during the love scenes.